Monday, September 10 2018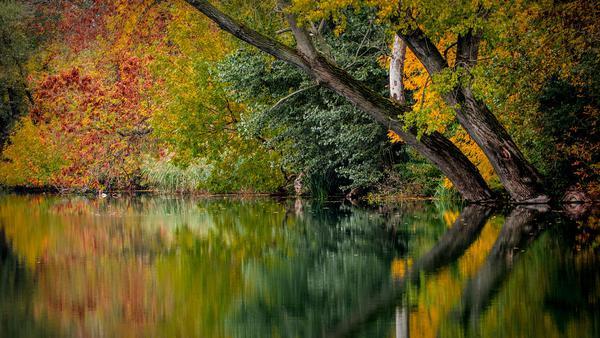 Then God said "Let us make man in Our image, according to Our likeness; let them have dominion over the fish of the sea, over the birds of the air, and over the cattle, over all the earth and over every creeping thing that creeps on the earth. Genesis 1:26
Sometimes when things look completely out of control it is good to remind ourselves of God's original intent and purpose for his people. If you don't understand the book of Genesis you will never understand the victory that is ours and all that God intended for us to have dominion over. In the beginning, GOD CREATED A PERFECT GARDEN!, he then created man to have dominion over that garden. God gave authority to Adam to tend the garden. (Genesis 2:15 - Then the Lord God took the man and put him in the garden of Eden to tend and keep it). God gave specific instructions to Adam and told him he could freely eat of everything in the garden except for the tree of knowledge of good and evil. (Genesis 2:16 - And the Lord God commanded the man, saying, "Of every tree of the garden you may freely eat: but of the tree of the knowledge of good and evil you shall not eat, for in the day that you eat of it you shall surely die."). That is some pretty specific instructions. We know the story well...we teach it to our children in Sunday School. It has become a very well versed story in the bible.. However, it is so significant to our understanding of the heart of God and his creation.
We have gotten away from the simplicity of the gospel message. We have listened to those who reason with their minds and intellect to create a powerless church who has no authority and has to accept whatever is handed to us. This is a lie! Go back to the beginning and see what God's intent was for his people. We understand that Eve became deceived by the very thing that she had authority over. Eve knew the command of God and Eve had a choice to obey the command of God. She, however, chose to reason with the enemy and through disobedience death entered. Through that act of disobedience Eve literally took the keys of authority that had been given to them by God to rule and reign in HIS garden and gave that authority to the Devil. The whole bible is a story of redemption. Where God set in motion a whole series of events to redeem that authority back to God's people. (Revelation 22:14 - Blessed are those who do His commandements, that they may have the right to the tree of life, and may enter through the gates into the city.)
The death and destruction that came through that fall has affected God's people for generations. Sickness, disease, poverty, death has reigned because of a simple act of disobedience. God in his great mercy and grace created a way for us to be redeemed from that curse that took place in the garden. Adam and Eve had a perfect relationship with the Father. We see after their act of disobedience they became afraid of God's voice. (Genesis 3:10 - So he said, "I heard Your voice in the garden, and I was afraid because I was naked and I hid"). What was a voice of love and comfort became a voice of fear. Disobedience causes us to fear. Once we have opened the door to fear...we run from the voice of God. The voice of the Father who is calling us back to himself. It is interesting God's response to Adam. "Who told you you were naked?" Have you eaten from the tree of which I commanded you that you should not eat?".
We listen to the voices around us that through their intellect and wisdom we think we hear the voice of God. Religion is a voice that speaks from a place that does not hear the voice of God anymore. Adam had a relationship with the Father and when he disobeyed he ran from that voice and hid. God dealt first with the enemy that deceived them. He then through justice rendered the punishment for their sin. Eve listened to the voice of the enemy and he deceived her...Adam listened to the voice of Eve and was deceived. One simple command from the Lord and they did not listen to HIS voice but the voice of the enemy. Sometimes the voice of the enemy will come through those we love the most. It matters who you listen to and who you hear.
God through his justice had to render punishment for that sin. However, in his grace and mercy he prepared a way for redemption. The garden was no longer in the possession of his creation. The enemy had gained the keys and became the God of this world. According to the law, blood was required for the forgiveness of sin. (Leviticus 17:11 - For the life of the flesh is in the blood, and I have given it to you upon the alter to make atonement for your soul; for it is the blood that makes atonement for the soul.)
We may never know the cost of our disobedience. God's voice speaks but we listen to the voices of those around us and it leads to sin.
Jesus became the second Adam and through his substitutionary sacrifice forever took our sins and bore them on the cross. His BLOOD paid the price and bought redemption for our sins. He then went to hell and took back the keys of death and restored the authority back to God's people. WE HAVE BEEN GIVEN THE KEYS AGAIN! We now have the authority given back to us to rule and reign in this life. However, religion continues to blind the hearts and minds of people and convince them that sickness, disease, death are all part of life and that somehow it is our lot in life to suffer. JESUS PAID IT ALL! We no longer have to bare the burden of the curse that came upon the land through Adam & Eve's disobedience. Jesus becoming the second ADAM redeemed us from the curse of the law! That included HEALING, PROSPERITY, AND SALVATION! The bible clearly tells us there is one way to access all that Jesus did on the cross for us...simply believe. We access those promises through faith. Interesting to me is people get upset when you tell them it takes faith because we don't want to accept any responsibility in our life for our choices. We want to believe that God is sovereign and does whatever he wants and we just go along with it. That is a lie and we do have a responsibility to respond to what Jesus paid for us. When you are saved...it took faith to respond to what Jesus did on the cross and receive that salvation. It is no different with healing and prosperity. Don't be the voice of unbelief in the life of someone who needs to hear what Jesus paid for them, so they might LIVE!
Religion will keep you believing that only salvation is available through the cross. Denying the power of the blood to set everything right in your life. Salvation is the first step to receiving the Kingdom of God. Jesus died...took back the keys and sat down at the right hand of the Father and according to Ephesians Paul says we were seated with him, In Christ. His blood fully redeeming us from the curse (Galatians 3:13 Christ redeemed us from the curse of the law by becoming a curse for us, for it is written: "Cursed is everyone who is hung on a tree,"). By HIS stripes we are HEALED. (Isaiah 53:4 - Surely He has borne our griefs and carried our sorrows; Yet we esteemed Him stricken, smitten by God, and afflicted. But He was wounded for our transgressions, He was bruised for our inquities; the chastisement for our peace was upon Him, and by His stripes we are healed.) But we say God can heal whom he wants and whom he does not want? Could that be the voice of the enemy and not God? He never said some would receive salvation and some would not, that it was entirely up to his sovereignty on whom he saved and whom he chose not to. NO, he said all who come to him and believe in HIM are saved. Well if the cross was threefold: salvation, healing, and prosperity...then ALL who come to Jesus and believe in his blood to save also will be healed and prosper. The lie of religion to say that only the cross can save but then tell someone that God may not heal them because they have a cross to bear is a LIE. When Jesus said "take up your cross and follow me", he did not say become sick and follow me. Jesus did not die of any disease...he died taking our sins upon him and he willingly laid his life down for us. He took those stripies upon his back for every disease known to man. He healed it ALL at the cross.
When we deny the power of the blood that was shed on the cross to HEAL then we are crucifying him all over again because we say that what he did was not good enough for us to be healed so therefore we say the cross did not do anything for us but bring salvation. Can you see the LIE of religion? It completely makes void the power of the blood to heal. We do not have to accept dead dry religion that is void of any power to change humanity. Through Jesus we have been given the authority once again over ALL the works of the enemy. Sickness and diease is a work of the enemy and is a curse of the law that Jesus redeemed.
Jesus simply tells us to believe. Believe on HIM...believe in the blood that was shed...believe that he paid our debt in full. Like Eve, we can hear the voice of the enemy and believe a lie and disobey the one commandment that was given by God or we can believe in this Jesus and that he redeemed our life on the cross. (Romans 10:9 - If you confess with your mouth that Jesus is Lord and believe in your heart that God raised him from the dead, you will be saved.)
We have many voices vying for our attention. There is only one voice that Adam heard until the serpent came to Eve. She had a choice to obey and she choose not to. There is no arguement regarding healing and the blood. Man's arguements are void of scripture because there is none to support that. We have taken away the fight of faith and replaced it with dead dry religion that comforts us in our disbelief and is void of any power to change a life.
We fight the good fight of FAITH! We have the authority given to us through the power of the blood to completely destroy every work of the enemy that is against the cross. Whose voice are you listening to?